Idaho Road Cams and Driving Conditions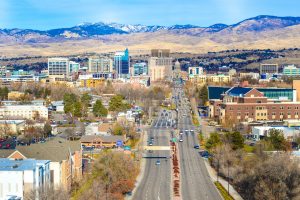 Welcome to Idaho, the Gem State, a haven of untamed wilderness, breathtaking landscapes, and friendly communities. Our extensive guide connects you to Idaho's Department of Transportation road cams, offering live traffic updates, weather information, and insights on scenic routes, ensuring a smooth and enjoyable travel experience throughout the state.
Idaho's roadways encompass key highways such as the I-84, I-90, and US-95, linking travelers to the state's most renowned cities and attractions. Anticipate potential congestion during peak hours in urban areas like Boise, Coeur d'Alene, and Idaho Falls. Idaho's weather can be quite diverse, with heavy snowfall in the mountainous regions during winter and occasional thunderstorms in the summer. Stay informed with our road cams for the latest updates, helping you navigate the state with confidence.
Immerse yourself in Idaho's captivating beauty by venturing along one of its many picturesque routes and byways. Marvel at the stunning Sawtooth Scenic Byway, traverse the historic Lewis and Clark Trail, or explore the charming Palouse Scenic Byway. Each drive showcases a unique aspect of Idaho's diverse landscapes, historic landmarks, and cultural treasures.
As you explore Idaho, let our road cams guide you through the state's diverse landscapes, providing you with real-time updates on traffic and weather conditions. Discover the unique blend of history, culture, and outdoor adventures that make Idaho a truly unforgettable destination.
Boise: Idaho's vibrant capital city, Boise is known for its lively downtown, rich cultural scene, and proximity to outdoor adventures, including the beautiful Boise River Greenbelt.
Coeur d'Alene: A picturesque lakeside city, Coeur d'Alene offers stunning natural beauty, recreational opportunities, and attractions like the Coeur d'Alene City Park and Beach.
Idaho Falls: Home to the famous Idaho Falls River Walk, this charming city boasts a blend of outdoor recreation, cultural attractions, and the fascinating Museum of Idaho.
Meridian: A rapidly growing city, Meridian features family-friendly attractions, beautiful parks, and the popular Village at Meridian shopping and entertainment center.
Nampa: Rich in agricultural history, Nampa offers a mix of urban amenities, recreational opportunities, and cultural attractions, including the Warhawk Air Museum.
Pocatello: Nestled in the heart of southeastern Idaho, Pocatello is a gateway to outdoor adventures and boasts attractions like the Idaho Museum of Natural History and the charming Old Town district.
Twin Falls: Located along the Snake River, Twin Falls offers breathtaking natural beauty, including the majestic Shoshone Falls, often referred to as the "Niagara of the West."
 Lewiston: Situated at the confluence of the Snake and Clearwater rivers, Lewiston features a rich history, picturesque landscapes, and access to numerous recreational activities.
Caldwell: Embracing its agricultural roots, Caldwell is home to the beautiful College of Idaho and the popular Indian Creek Plaza, a hub for community events, shopping, and dining.
Sandpoint: A charming lakeside town, Sandpoint boasts stunning Lake Pend Oreille, a vibrant arts scene, and the renowned Schweitzer Mountain Resort for skiing and snowboarding.
Moscow: A quintessential college town, Moscow is home to the University of Idaho and offers a friendly atmosphere, tree-lined streets, and the scenic Moscow Mountain Recreation Area.
Post Falls: Located along the Spokane River, Post Falls is a thriving community offering scenic beauty, outdoor recreation, and attractions such as the Q'emiln Park and Trail System.