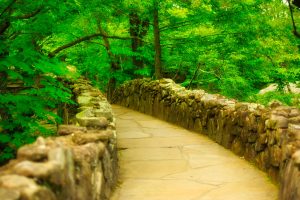 Tennessee is a state that offers a variety of experiences for travelers of all kinds. Whether you are looking for music, history, nature, or adventure, you will find it in Tennessee. The state is divided into three regions from the flat plains of the west, to the rolling hills of the central region and the more mountainous terrain of the east.
To help you navigate your journey, we have compiled a list of Department of Transport road cams from each state of Tennessee that provide you with live images of the traffic situation and road conditions on your route.
Here are some brief introductions to the five most populous cities in the state:
Tennessee has many scenic routes and byways that showcase its natural beauty and historic landmarks. Some of the most popular ones include:
The Natchez Trace Parkway, one of Tennessee's three All-American Roads, which follows an ancient trail used by Native Americans and pioneers and offers stunning views of forests, waterfalls, and historic sites.
The Cherohala Skyway crosses the Cherokee and Nantahala National Forests and reaches elevations of over 5,000 feet, providing spectacular vistas of the mountains and valleys.
The Great River Road traces the Mississippi River from Memphis to Tiptonville and features attractions such as Graceland, Mud Island, and Reelfoot Lake.
The Sequatchie Valley Scenic Byway runs along the west side of the Cumberland Plateau and passes through four state parks, three state forests, and two state natural areas.
The Smoky Mountain Byway connects the Great Smoky Mountains National Park with seven counties and offers access to hiking trails, wildlife viewing, and historic towns.
Tennessee also has a network of main roads that connect its major cities and regions. Some of the most important ones are:
Interstate 40, which crosses the state from west to east and links Memphis, Nashville, Knoxville, and Asheville.
Interstate 65, which runs from north to south and connects Nashville with Louisville and Birmingham.
Interstate 24, which branches off from I-65 in Nashville and goes southeast to Chattanooga and Atlanta.
Interstate 75, which merges with I-40 in Knoxville and continues south to Chattanooga and Florida.
Interstate 81, which joins I-40 near Dandridge and heads northeast to Virginia.