Rhode Island Road Cams: Monitor Traffic, Weather, and Scenic Routes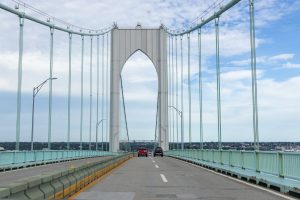 Rhode Island is the smallest state in the United States, but it has a lot to offer for travelers who love history, culture, and nature. The Ocean State boasts over 400 miles of coastline, dotted with sandy beaches, rocky cliffs, and scenic lighthouses. It is also home to some of the most impressive mansions in the country, built by wealthy families who flocked to Newport in the Gilded Age. Whether you want to explore the colonial heritage of Providence, the artistic vibe of Block Island, or the culinary delights of Narragansett, Rhode Island has something for everyone.
One of the best ways to discover Rhode Island is by driving along its main routes and attractions. You can start your journey in Providence, the state capital and the largest city. Here you can visit the Rhode Island State House, the Roger Williams Park Zoo, the RISD Museum, and the WaterFire Providence, a spectacular public art installation that lights up the rivers with bonfires. You can also enjoy a walk down Benefit Street, lined with historic buildings and landmarks.
From Providence, you can take Interstate 95 south to reach some of the most popular destinations in Rhode Island. You can stop by Warwick, where you can shop at the Warwick Mall, play at the Launch Trampoline Park, or relax at the Goddard Memorial State Park. You can also visit Cranston, where you can see the Garden City Center, the Pawtuxet Village, and the Edgewood Yacht Club.
Continuing south on I-95, you will reach Westerly, a charming town that offers a variety of activities and attractions. You can enjoy the sun and sand at Misquamicut State Beach, watch a show at the United Theatre, or take a tour of the Grey Sail Brewing Company. You can also hop on a ferry to Block Island, a beautiful island that features stunning views, historic sites, and outdoor adventures. You can hike along the Mohegan Bluffs, visit the Southeast Lighthouse, or bike around the island.
If you want to experience the glamour and elegance of Rhode Island's past, you can head east on Route 138 to Newport. This seaside city is famous for its opulent mansions that showcase different architectural styles and periods. You can tour The Breakers, The Elms, Marble House, and other grand residences that belonged to prominent families like the Vanderbilts and the Astors. You can also stroll along the Cliff Walk, a 3.5-mile path that offers breathtaking views of the ocean and the mansions.
Newport is also a great place to enjoy some of Rhode Island's finest attractions and activities. You can visit the International Tennis Hall of Fame, where you can learn about the history and legends of the sport. You can also explore Fort Adams State Park, where you can see a historic fortification and attend events like the Newport Jazz Festival and the Newport Folk Festival. You can also take a cruise on Narragansett Bay, where you can admire the scenery and spot marine wildlife.
Rhode Island is not only a coastal state but also a rural one. If you want to escape from the hustle and bustle of the cities and towns, you can drive north on Route 146 to experience some of Rhode Island's natural beauty and charm. You can visit Lincoln Woods State Park
You can visit Lincoln Woods State Park, where you can hike, bike, fish, or swim in the freshwater lake. You can also explore the Blackstone River Valley National Historical Park, where you can learn about the birthplace of the American Industrial Revolution and see historic mills, villages, and canals. You can also drive along Route 102, a scenic byway that passes through rural towns and farms.
Rhode Island is not only a destination for sightseeing but also for experiencing its rich culture and cuisine. The state is known for its seafood, especially quahogs (hard-shell clams), lobster, and clam chowder. You can sample some of these delicacies at one of the many seafood shacks or restaurants along the coast. You can also try some of Rhode Island's specialties, such as coffee milk (the official state drink), johnnycakes (cornmeal pancakes), and hot wieners (hot dogs with meat sauce and onions).
Rhode Island is a state that offers something for everyone, no matter what your interests or preferences are. Whether you want to relax on the beach, admire the architecture, immerse yourself in history, or enjoy the arts and entertainment, you will find it here. Rhode Island is a small state with a big personality, and it invites you to discover its charms and treasures.